We are hopeful, and we believe in progress over perfection. We're not perfect, but we want to be perfectly transparent.
In 2018, we became the first fashion brand to publish our lowest wages because we believe that true transparency and accountability is the only way we can end poverty in our industry.
98% of fashion workers don't make a living wage, which means they cannot meet their basic needs. But that won't change unless consumers demand change from brands. Publishing wages protects workers by giving consumers a clear choice. For 100% of workers to earn a living wage it may take time, but nothing changes corporate exploitation like consumer demand (that's you).
We started with Nashville in 2018 and now Ethiopia in 2019, and will continue with all of our manufacturing partners once traveling post-pandemic is deemed safe and countries have lifted restrictions.
Living wage is calculated by taking into account multiple factors, including the leading resources available (MIT Living Wage Calculator, Wage Indicator, Trading Economics), survey data from the ACCOUNTABLE assessment in each country, and consultation with on-the-ground experts.
Calculation for living wage is determined based on local prices for housing & utilities, transportation, food & water, healthcare, childcare, education, and savings.
ACCOUNTABLE is a social impact reporting tool ABLE developed to assess the impact of our supply chain on workers, with an emphasis on women. Women make up 75% of the fashion workforce, and fashion is one of the largest employers of women worldwide.
Through the process of developing ACCOUNTABLE, we realized that transparency around wages is one of the clearest and most effective ways of evaluating a brand's impact on workers.
ACCOUNTABLE is now becoming its own 3rd party nonprofit.

Owner: ABLE
Date Audited: 2017
Products: Jewelry, fulfillment, headquarters
Our jewelry and fulfillment center is Nashville is our only owned manufacturing. We opened this facility in 2016 and currently employ 86 people.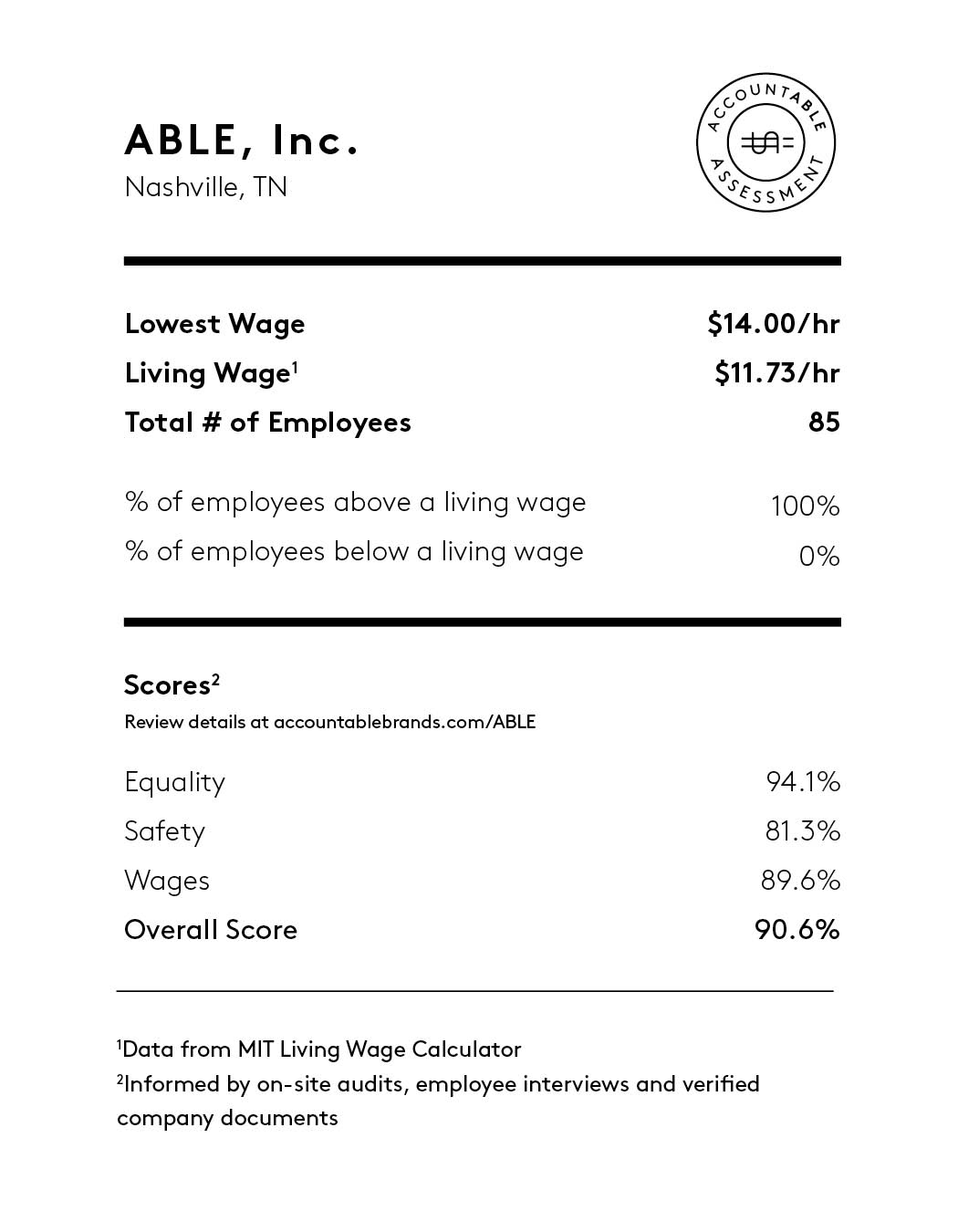 Owners: Independent
Date Audited: 2017
Products: Leather

We currently work with 5 manufacturers in Ethiopia and 3 of them were fully audited in 2017. The current wages published below are from 2019 and have been updated following the original audit. After conducting the original audits we have worked with our partners to move their workers to a living wage. We're still in progress, but we've also made a lot of progress!

We are due to re-audit our Ethiopia manufacturers in the next year, and will also recalculate the living wage as part of that process. The living wage of 4000 birr was determined during the original audit process in 2017.

Highlights:
We've helped 3 women entrepreneurs start businesses.
Following the ACCOUNTABLE audit, one of our manufacturing partners completely changed their business model to bring more people to full-time positions and increased wages. They are now at 100% living wages.
Our partners are actively working to train people and support skill development, oftentimes partnering with marginalized communities, such as the hearing-impaired community or men and women transitioning out of rehabilitation programs.
One of our partners used to be an ABLE employee who started her own business in 2017 and now employs 50 people. She has paid 100% living wages since Day 1 and has tripled her business in 2 years.
Note: all of our Ethiopia manufacturers offer training programs. The employees in these programs are included in the audit/wage report after 3 months of training.
WAGES IN ETHIOPIA

Ethiopia has no national minimum wage. The average leather worker in Ethiopia makes 1200-1500 birr/month compared to 4000 birr living wage ($135 USD).
Living wages are specific to the cost of living in a particular place, so the most important comparison is a worker's wage compared to the local living wage.
However, conversion to USD is useful to illustrate how little it would take to bring all workers to a living wage. Doing so requires commitment from both the brand and manufacturer.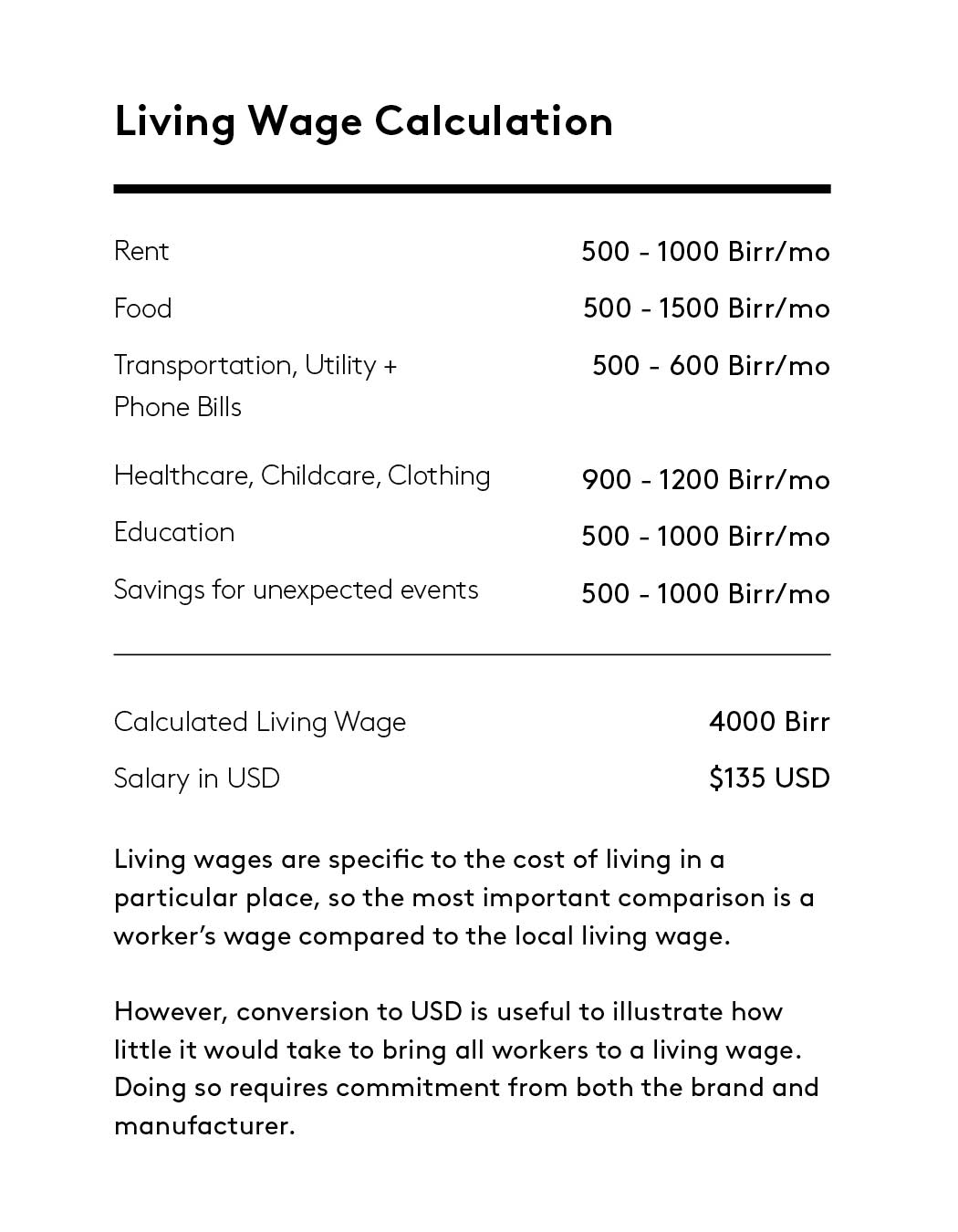 Following the 2017 audit, Sabegn completely changed their business model and now has achieved 100% living wages!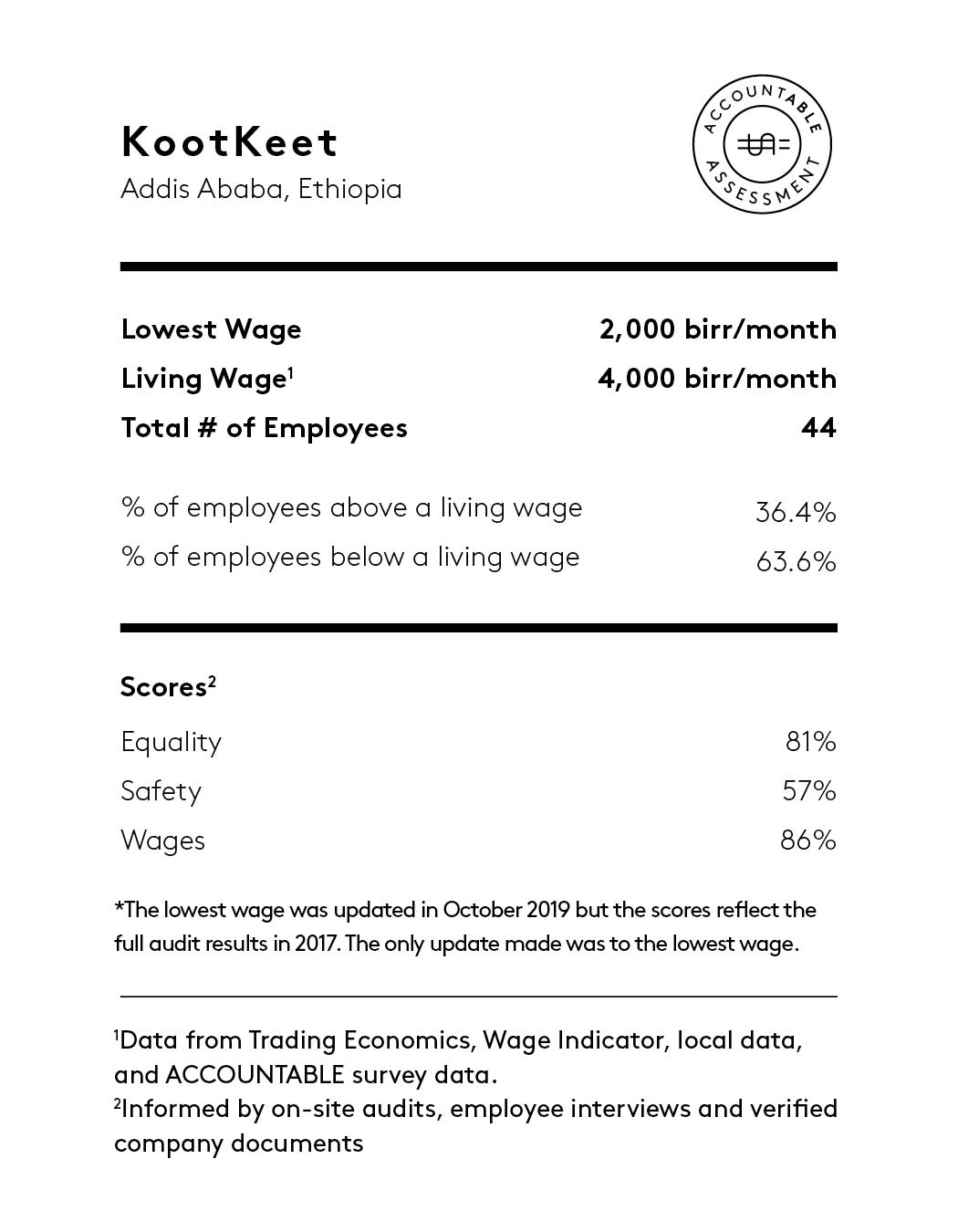 We worked with KootKeet to bring all their workers to living wage by March 2020, and are awaiting a full audit update, pending COVID-19 travel restrictions (more info here).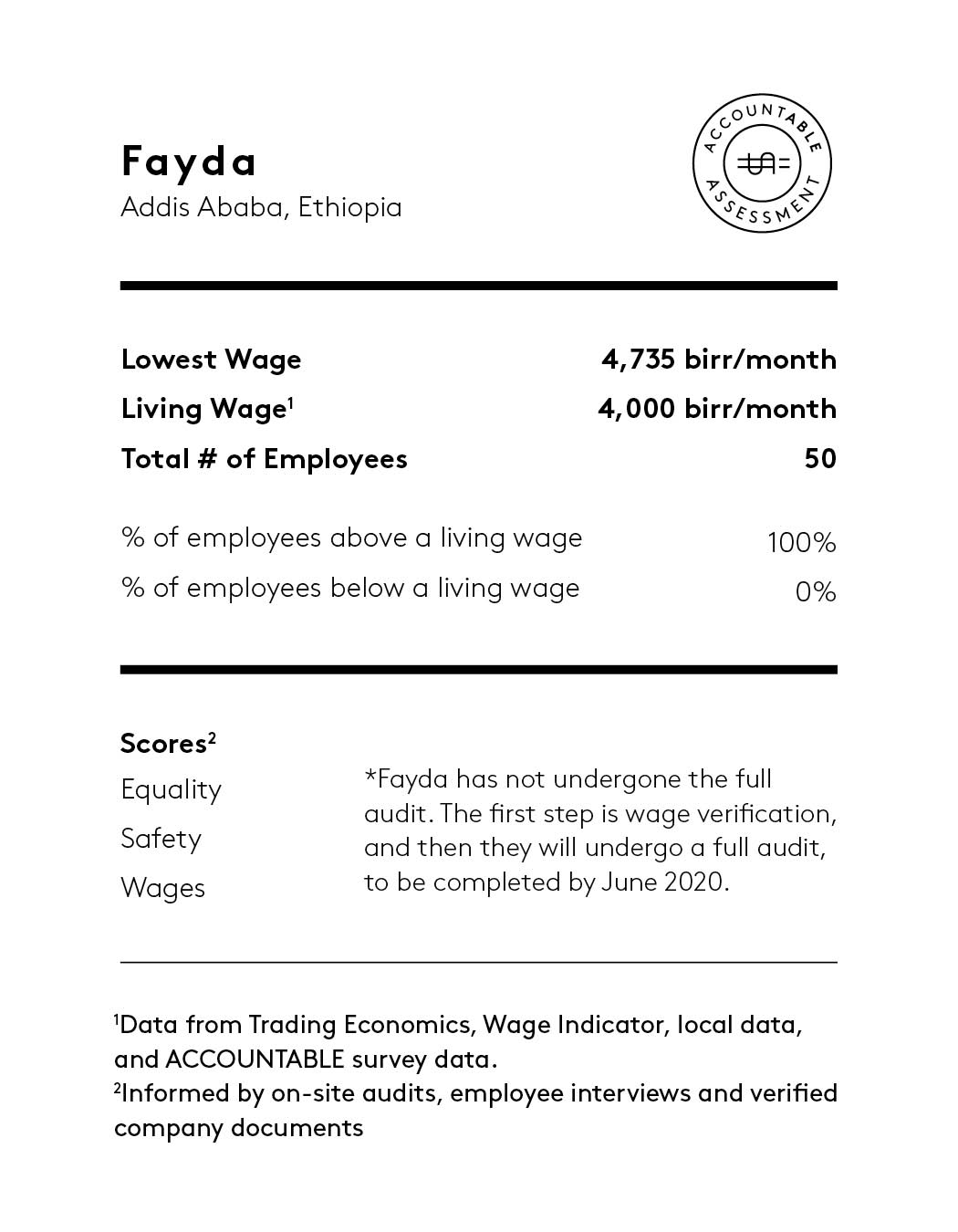 Fayda has not undergone a full audit due to travel restrictions during COVID-19, but we hope to perform a full audit as soon as possible (more info here).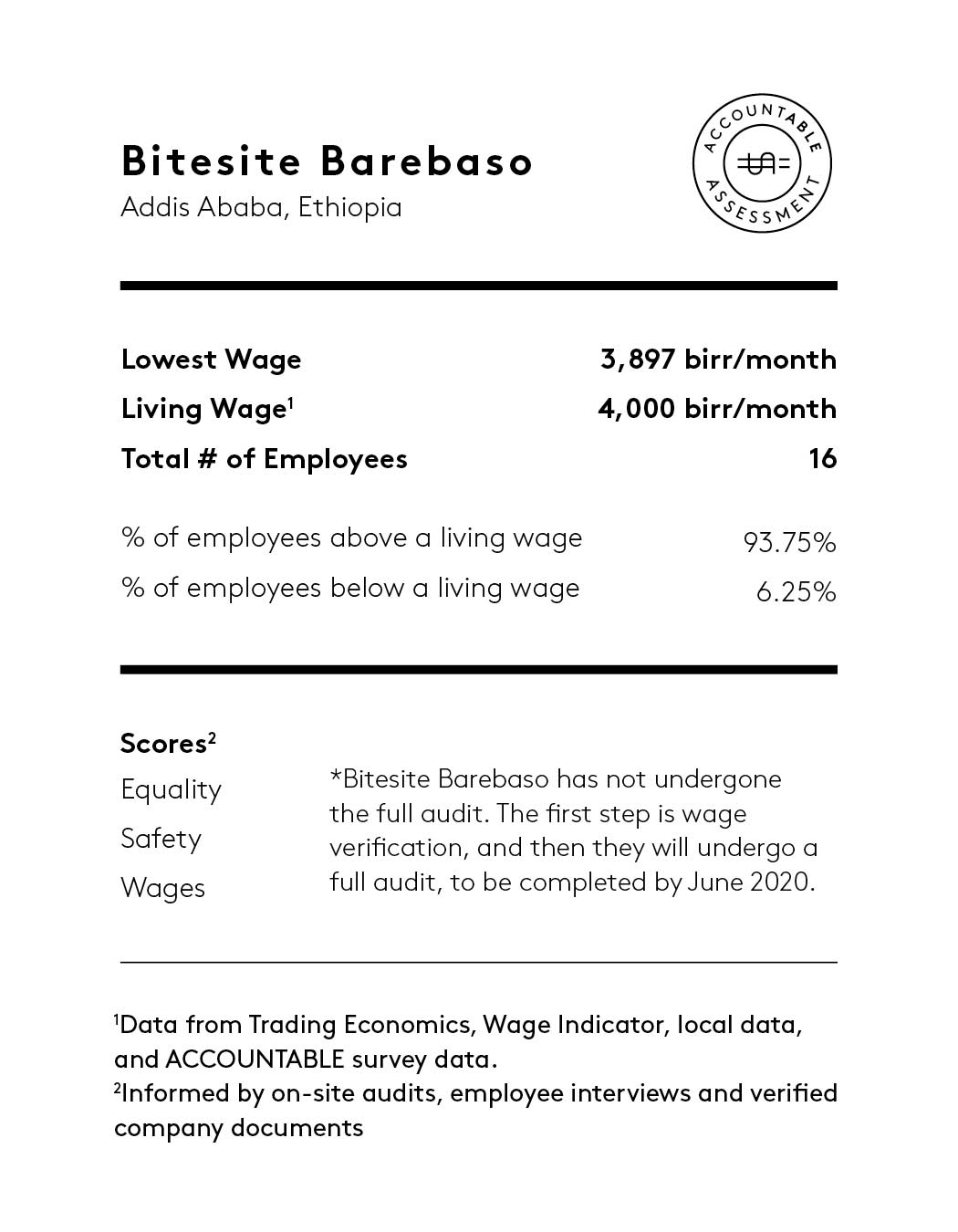 Bitesite Berebaso has not undergone a full audit due to travel restrictions during COVID-19, but we hope to perform a full audit as soon as possible (more info here).